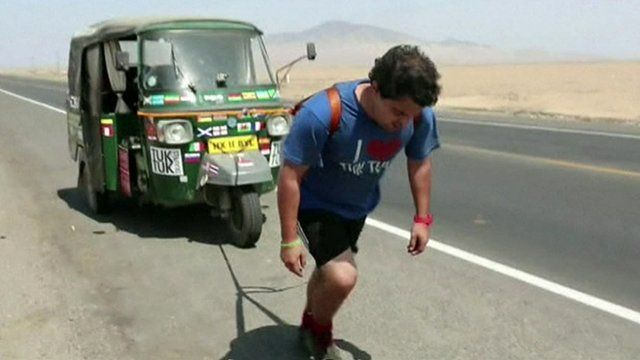 Video
British teachers break tuk tuk world record
Two British school teachers, Nick Gough and Richard Sears, have broken the world record for the greatest distance travelled by tuk tuk.
On reaching Chile, they will have travelled the length of the circumference of the earth.
Speaking to the Today programme, Mr Sears remarked that their journey had not been without problems. "Everything that could go wrong, did go wrong with the vehicle," he said.
Just 70km from the world record mark, the teachers realised they were going to have to push the tuk tuk for the rest of the way, leading to "a very painful three days" before they found a mechanic who could fix it.
The pair will continue their journey into December 2013, but hope to share their story when they return home.
"When we're back in the UK, we want to go and talk in as many schools as will have us, about the expedition and about the development and education issues we've encountered," added Mr Gough.
First broadcast on BBC Radio 4's Today programme on Monday 25 November 2013.