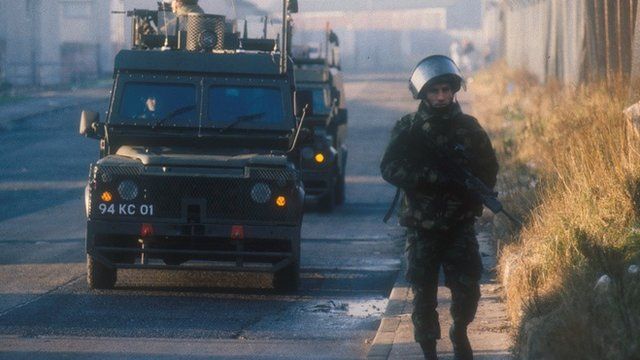 Video
NI Troubles: Father's shooting was 'abhorrent'
The BBC's Panorama programme has uncovered evidence that soldiers from a secret unit used by the British Army during the troubles in Northern Ireland in the early 1970s, shot unarmed civilians.
Speaking publicly for first time, members of the Military Reaction Force say they believe the unit saved many lives.
The Ministry of Defence has said admissions by the soldiers that they sometimes operated beyond the law will be referred to the police.
Patricia McVeigh, whose father was gunned down on the street in May 1972, is "delighted" Panorama is covering the issue and hopes it will "help us in our quest for a new inquest".
She explained: "There was nothing brave about shooting unarmed men. The fact my father was shot in the back going about his lawful business is abhorrent."
Ms McVeigh wants some "form of justice" for her father, who she believes was killed unlawfully during the Troubles.
Col Richard Kemp, who did 10 tours of Northern Ireland, feels "on the whole, thousands of soldiers went through Northern Ireland and stuck to the yellow card".
"Of course soldiers should be investigated thoroughly if there are allegations or suspicions, but so should those people who, for example, are responsible for the 17 disappeared people, who were allegedly killed, and just disappeared by the provisional IRA," he added.
First broadcast on BBC Radio 4's Today programme on Thursday 21 November 2013.