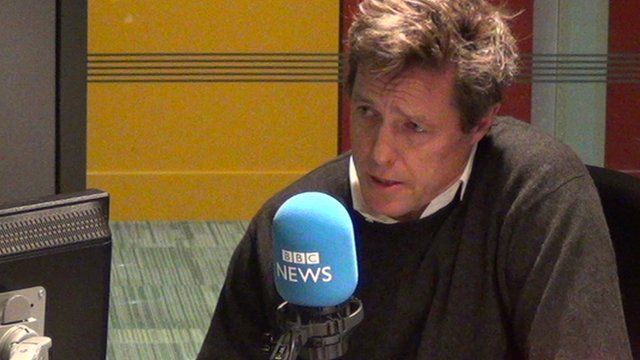 Video
Hugh Grant: 'No compromise with press'
Hacked Off campaigner Hugh Grant has said ministers were "in hock" to the newspaper barons and insisted there should be no further compromise with the press.
He spoke after a senior industry figure said that newspapers could take legal action in the European courts to prevent new press regulations coming into force.
The Privy Council has rejected press proposals for a royal charter and will now consider the government's plans.
Times executive editor Roger Alton told the BBC that should those plans be approved it would be an "unjust law".
Mr Grant explained to Today programme presenter Sarah Montague: "I think the victims of press abuse consider that any further compromise would be a betrayal of the promises made by the Secretary of State and, above all, by the prime minister to them."
"If you have all the parties in parliament in both houses voting for a royal charter that everyone has agreed on... and then part of the executive - only the Conservative part of the coalition government - does everything in its power to sabotage that promise, that parliamentary will, you have an abuse of democracy," he added.
First broadcast on BBC Radio 4's Today programme on Wednesday 9 October 2013.