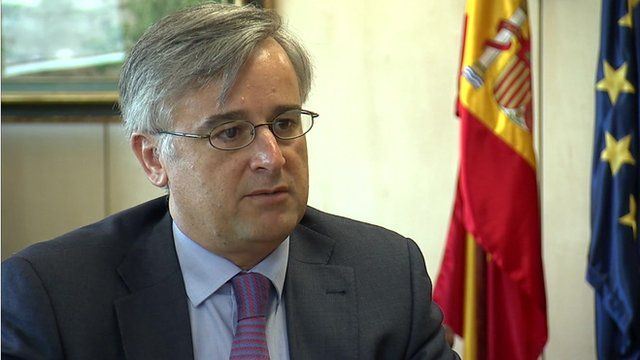 Video
Gibraltar border row: Spain says UK 'difficult to trust'
The British government is considering what it calls unprecedented legal action against Spain over its new controls on the border with Gibraltar.
Ignacio Ibanez, director general for foreign affairs at Spain's foreign ministry, says his government has made it clear it is "ready to discuss" the issue with David Cameron.
Asked by the BBC's Tom Burridge if it was wise for Spain, a Nato ally of the UK, to seek Argentine diplomatic support, Mr Ibanez said the issue of Gibraltar had similarities to that of the Falkland islands, which he called by their Argentinian name, the Malvinas.
He added: "You need an environment where you trust each other and with what happened with the fisheries, it is difficult to trust the UK."
Go to next video: HMS Westminster begins Gulf trip