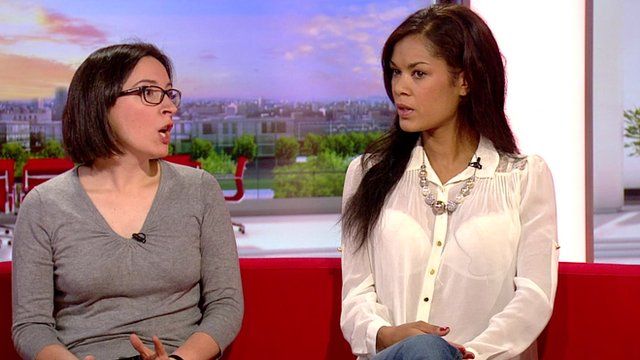 Video
Model and campaigner on 'lads' mags'
Glamour model Natalie Rochford and Kat Banyard, who represents the Lose the Lads' Mags Campaign, debate whether front pages of titles such as Front, Loaded, Nuts and Zoo should be covered up in shops.
The Co-operative has given so-called lads' mags six weeks to cover up their front pages with sealed "modesty bags" or be taken off sale in its stores.
The 4,000-outlet retailer said it was responding to concerns by its members, customers and colleagues about images of scantily-clad women on covers.
But Natalie Rochford argues that other magazines have women in bikinis on their cover but are not seen as "wrong".
Kat Banyard says lads' mags are "deeply harmful" and fuel "sexist attitudes and behaviour".
Go to next video: Campaign targets lads' magazines