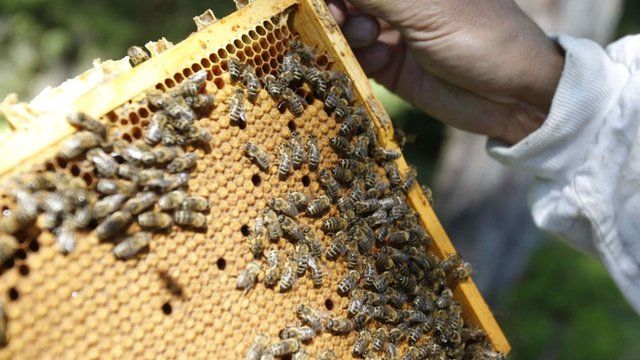 Video
Bee losses: 'not a great deal can be done'
This winter's losses of honey bee colonies were the worst since records began six years ago, according to a survey carried out by the British Beekeepers Association.
It says more than a third of hives did not survive the cold, wet conditions.
Speaking to Today programme presenter James Naughtie, Tim Lovett, director of public affairs for the British Beekeepers Association explained the seriousness of the problem:
"If managed bees, in other words honey bees where the beekeeper can try to mitigate some of the terrible effects of the weather, if they are really suffering so badly, what on earth is happening to wild bees in the environment?"
"Damp conditions are not good in a hive because that promotes fungus-like diseases... Beekeepers can do something and indeed have been doing something, monitoring their hives closely and trying to substitute syrup in to feed the bees and try and build them up, but really there is not a great deal that can be done," he added.
First broadcast on BBC Radio 4's Today programme on Thursday 13 June 2013.