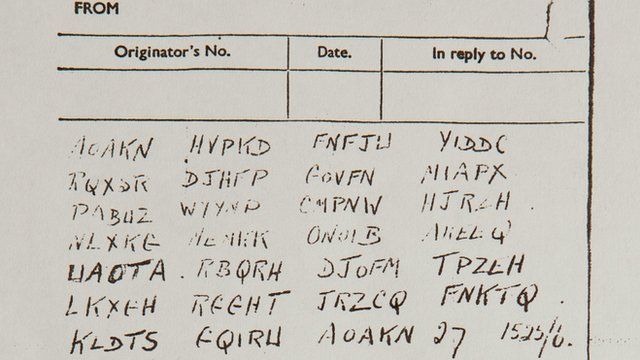 Video
WWII code 'may never be cracked'
Experts at intelligence agency GCHQ have asked for help in de-coding a message found attached to a pigeon leg, thought to date back to WWII.
The dead bird was found in a chimney in Surrey a few weeks ago.
But without more information, the code may never be cracked, according to the BBC's security correspondent Gordon Corera.
The code is as follows:
AOAKN HVPKD FNFJU YIDDC
RQXSR DJHFP GOVFN MIAPX
PABUZ WYYNP CMPNW HJRZH
NLXKG MEMKK ONOIB AKEEQ
UAOTA RBQRH DJOFM TPZEH
LKXGH RGGHT JRZCQ FNKTQ
KLDTS GQIRU AOAKN 27 1525/6
The original transcription of this code was provided by GCHQ who have now corrected it. The code reproduced here was amended on 30 November 2012 to reflect this.
Go to next video: WWII carrier pigeon message found