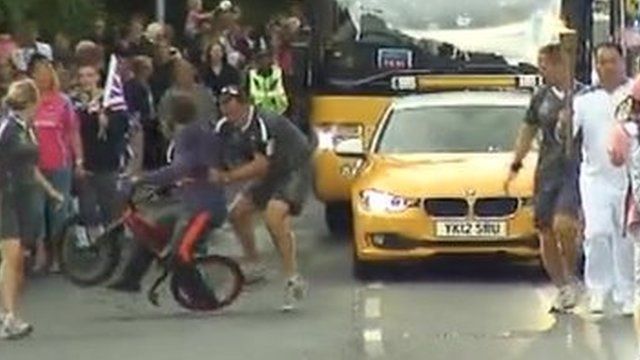 Video
Olympic torch: Security team tackle cyclist
The Olympic torch security team has tackled a young cyclist during the relay's Suffolk leg.
The Metropolitan Police told the BBC: "A male on a pedal cycle attempted to enter the security bubble around the torchbearer. The Met's torch security team prevented him from gaining access to the torchbearer causing the cyclist to fall from his bike. He immediately got back on his bike and left."
A spokesperson added: "Although there was no disruption to the relay, we'd like to remind people not to enter the security bubble, this is for their own safety as well as the torchbearer's - The Torch Relay is a moving convoy including vehicles."
Update: This page has been amended to include a revised statement from the Metropolitan Police, clarifiyng how the cyclist came to fall.
Go to next video: Oliver runs with Olympic torch