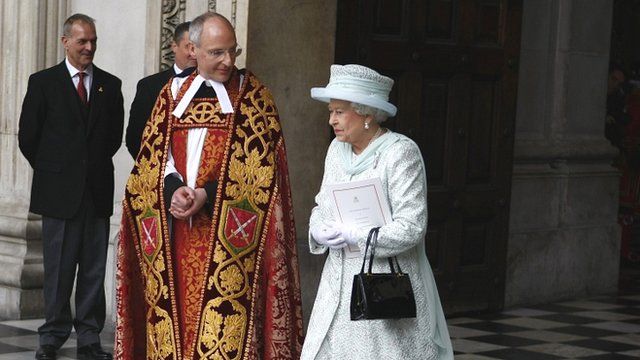 Video
Defender of the Faith... or faith?
At St Paul's Cathedral today, the Queen took part in the service not only as monarch but also as Supreme Governor of the Church of England and as Defender of the Faith, a title Henry VIII created for to legitimise his break with the Roman Catholic Church and to establish the Protestant Church of England as the state religion.
So is it time for change?: When Prince Charles eventually succeeds the Queen, should he become Defender of Faith - not the faith, or a single faith?
Dr Alan Smith, the Bishop of St Albans, told The World At One's James Robbins that "it's very complicated if you start trying to unravel something that's got such a long history. The very phrase Defender of the Faith was formed at a time of religious conflict."
He added that the Church of England "seeks to understand that phrase in a very inclusive and welcoming way".
But Dr Smith said "I don't quite know what was behind" Prince Charles's thinking when he spoke of the idea of becoming Defender of Faith, adding: "If you start wanting to have some general faith position, how does he fulfil that? After all he, as is his mother, is a practising Anglican."
Baroness Neuburger - Julia Neuberger - the second female Rabbi in Britain and the first to have her own synagogue, told the programme: "I think we could be more all embracing without in any sense disesablishing the Church of England.
, because I think the point tht he he is making... is for the the position then of the monarchy is to be inclusive of all the main faiths in the country, not stopping being head of the Anglican church."