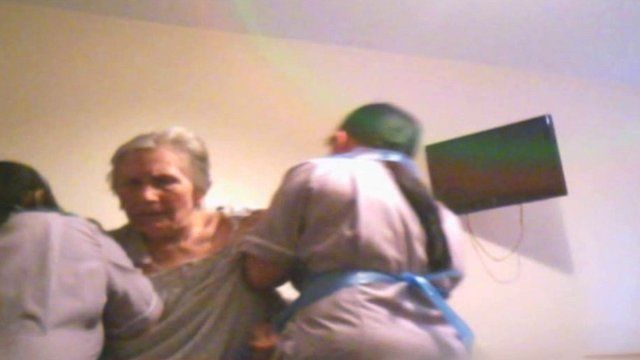 Video
Abuse secretly filmed in 'excellent' London care home
An elderly woman was physically assaulted by a male carer and mistreated by four others in a care home classed ''excellent'' by the national regulator, the Care Quality Commission.
Jane Worroll secretly filmed her mother's room in Ash Court, London, after she noticed bruising on her mother's arms and legs and suspected she was being mistreated.
Maria Worroll, 81, suffers from Alzheimer's and arthritis, and requires around-the-clock care.
The footage, broadcast for the first time on BBC Panorama, shows care workers feeding Maria Worroll too quickly, manually rolling her over, and hauling her roughly into bed - an action that should have been performed using a hoist.
All five main care workers filmed by Jane Worroll were sacked.
Forest Healthcare, which manages the home, say this was an isolated incident, and that they receive positive feedback on the care in Ash Court, which is subject to "continual improvement." Fiona Phillips reports.
Forest Healthcare has no connection to Forest Care Ltd which operates homes in Hampshire and Surrey.
Panorama - Undercover: Elderly Care, Monday 8.30pm, BBC One.
Go to next video: Carers 'made me feel like meat'