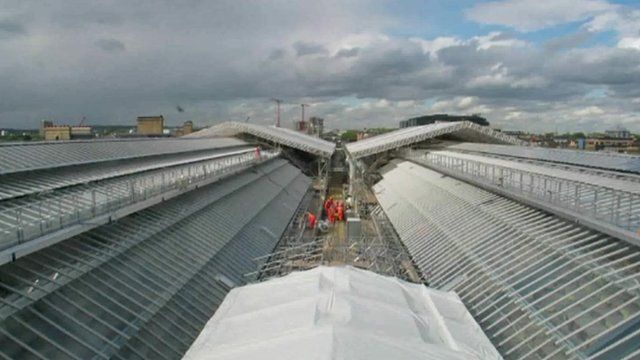 Video
Timelapse of work on King's Cross station
A new concourse, which will more than double capacity at London's King's Cross station in time for the Olympic Games, is being unveiled.
The station is one of the country's busiest transport interchanges with 47 million people using the station every year.
Thousands of extra people are expected to travel through the hub this summer as it provides a vital link to the Olympic Park in Stratford, east London.
Work has also been undertaken to refurbish the main train shed roof and platforms and build a new footbridge and subway.
The two wrought iron and timber barrel-vaulted roofs of the main train shed are currently being refurbished, incorporating photo-voltaic arrays in the linear roof lanterns to provide sustainable energy for the station.
The station's 118-year-old wrought-iron Handyside Bridge, which featured heavily in the Harry Potter films, has been removed as it could not provide disabled access or withstand the increased volume of passenger circulation.
Timelapse footage courtesy of Network Rail.
Go to next video: Inside the new-look King's Cross