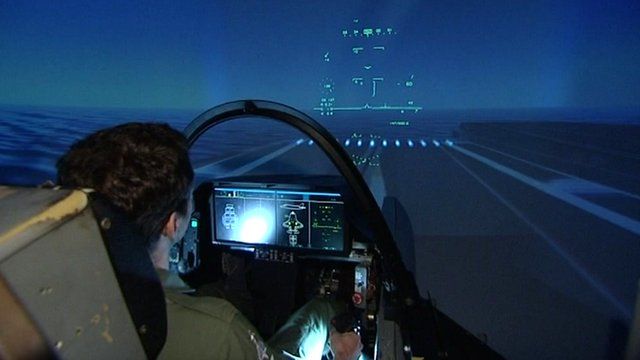 Video
How to land an F-35 jet fighter at sea
BAE Systems is already carrying out test flights of the new F-35 Joint Strike Fighter plane, flying off the next generation of Queen Elizabeth Class Carriers.
It has built a sophisticated simulator at its factory in Warton, Lancashire, to help pilots and engineers relearn the old skills of naval flying, using catapults and arrestor gear - or "cats and traps".
The technology has not been used by the Royal Navy for almost 50 years.
BAE Systems test pilot Steve Long and chief engineer Chris Garside explain how it works.
However, the government has now indicated it may be considering an alternative method of landing.
Go to next video: Inside the F-35 Joint Strike Fighter