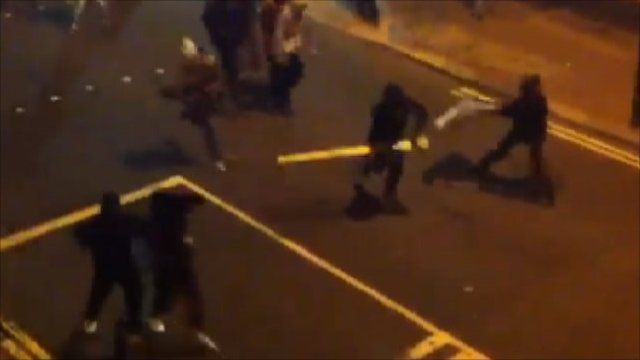 Video
London unrest: Rioters charge police in Woolwich
Amateur footage sent to the BBC appears to show a gang of youths charging at police in Woolwich during rioting in south London on Monday night.
The video was shot by Mike Jelves and shows the scene on Thomas Street at around 22:00 BST.
A large number of missiles are hurled towards officers who are forced to retreat back down the road they are attempting to block.
Shops, a pub, and a police car were set on fire as an estimated 300 rioters confronted police in Woolwich, looting shops throughout the town centre.
There were scenes of looting and arson in several other areas of the capital on what was a third night of unrest. Violence also flared some other English cities, including Liverpool and Birmingham.
Go to next video: Croydon store owner: 'Mindless arson'