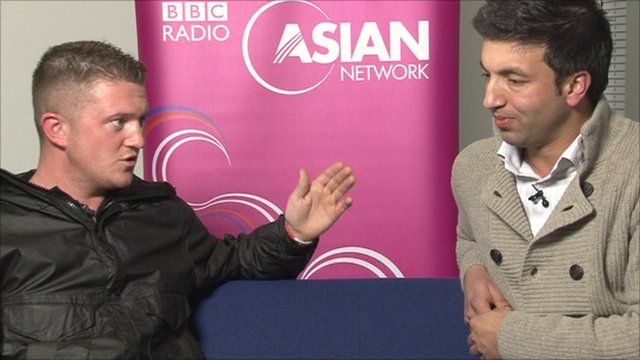 Video
English Defence League leader debates with Muslim
The English Defence League was formed in the wake of a demonstration by a small group of Muslims at a Luton homecoming parade in March 2009.
Since then the EDL has protested all over the UK against what they say is 'radical Islam' attracting crowds sometimes in the thousands, and often ending in clashes with opposition group Unite Against Facism.
Opponents have called them Islamophobes and hooligans, something they vehemently deny.
As part of a radio documentary for BBC Asian Network, reporter Catrin Nye sat the leader of the EDL Tommy Robinson down with Mohammad Ayoub, a founder of Muslim youth magazine 'The Revival'.
It is the first time the EDL leader has debated his grievances with a member of the Muslim community.
You can hear more this in a special documentary called Who's Afraid of the EDL? on the BBC's Asian Network Reports radio show or via the BBC iPlayer.