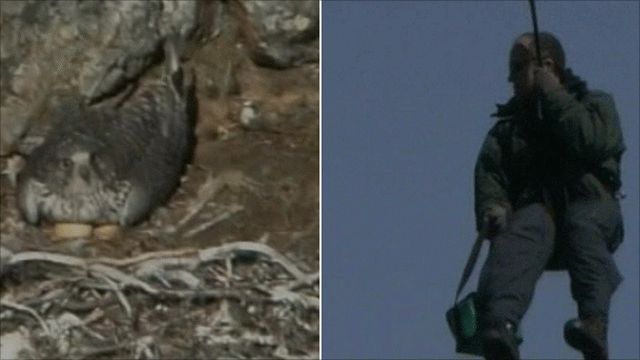 Video
Footage of daring bird egg theft by helicopter
A man has been sentenced to 30 months in prison after admitting attempting to smuggle rare bird eggs out of Britain.
Jeffrey Lendrum, 48, from York Close, Towcester, Northamptonshire, was found in possession of 14 peregrine falcon eggs snatched from Wales when he was detained on 3 May.
He was arrested at Birmingham Airport as he waited for a flight to Dubai.
Lendrum had previous convictions in Zimbabwe and Canada for stealing rare eggs. He once abseiled off a cliff to reach a nest, while on another occasion he lowered himself from a helicopter in Canada to reach his prize.
Footage of his exploits was found in his bag when he was arrested, as Claire Marshall explains.