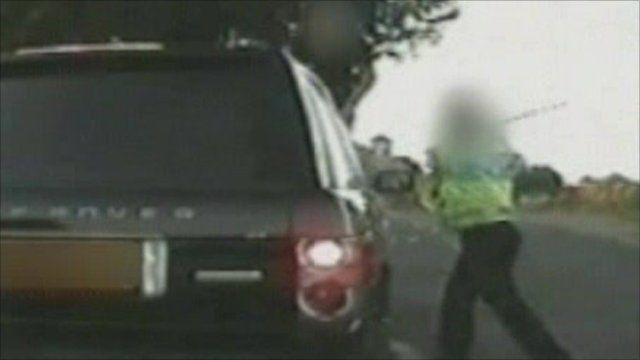 Video
Police watchdog probe into OAP car 'smash' claim
Two police officers have been taken off operational duty while the Independent Police Complaints Commission investigates how they dealt with a pensioner who it was alleged had driven off after being stopped for not wearing his seat belt.
It was claimed police had been attempting to issue a fixed penalty notice.
There have been claims the 70-year-old driver's car window was smashed.
One officer is shown in police video footage hitting the window of Robert Whatley's Range Rover and another jumping on the bonnet to kick the windscreen.
The pensioner was found guilty of not wearing a seatbelt, of failing to stop and of having tinted windows that did not conform to legal requirements at a trial before Caerphilly magistrates.
Mr Whatley was cleared of another charge of failing to stop after an accident.
Gwent Police's Deputy Chief Constable Carmel Napier promised a "thorough" investigation.
"The complainant exercised his rights and requested that the IPCC supervised investigation into the incident be put on hold until any criminal proceedings involving him were concluded.
"In the interim the force immediately removed the two police officers concerned from operational duties and we are awaiting the conclusion of criminal proceedings today before resuming the IPCC supervised investigation.
"Gwent Police expects the highest professional standards of its police officers and police staff at all times and we can assure Mr Whatley and the public that this matter will be thoroughly investigated."