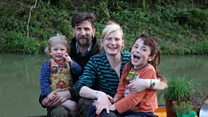 Video
Canal boat owners with "continuous cruiser" licences must move every 14 days
Canal boat owners with "continuous cruiser" licences must keep moving to a new place every 14 days.
Many people who live on their boats are complaining that their children can't go to school because the rule is being interpreted to mean they have to travel in one direction.
For Mum Jassy Easby and dad Ted Powles, and children Jem and Alba home is not bricks and mortar but a 70ft canal boat called Pathfinder.
Like the majority of the 32,000 canal boats their boat is licensed as a "continuous cruiser" but the rule, they say, is beginning to compromise family life on the waterways.
(Photo: family on a barge. Credit: BBC).