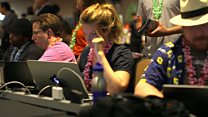 Video
Hacking with Hawaiian garlands
BSides is one of the major hacking conferences that took place in Las Vegas last week.
The difference between BSides and the likes of Def Con and Black Hat is that it is free, volunteers help run the show, and it was created by and for the hacking and security community.
Attendees go to listen in on closed off talks, try their hand at lock picking, and network in an informal environment.
Security researcher Scott Helme went to BSides with BBC Click to join others all wearing Hawaiian garlands to take a look at what goes on.
See more at Click's website and @BBCClick.
Go to next video: Where hackers go to hone their skills