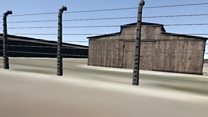 Video
How virtual reality could help prosecute Nazi war criminals
A 3D recreation of Auschwitz has been created by the Bavarian State criminal office (LKA) to assist in the prosecution of war criminals committed more than 70 years ago.
The virtual reality version of the concentration camp allows judges and jurors to view it from the perspective of the people who were there, both guards and prisoners, to help refute or prove evidence given by the accused.
"I think within five to 10 years virtual reality will become a standard tool for police, not just in Germany but all over the world, because it's a way of making scenes of crimes accessible even years later," says digital imaging expert Ralf Breker, whose team created the virtual reality model.
The model helped to convict former SS guard Reinhold Hanning, who was sentenced to five years in jail after he was found guilty of being an accessory to the murder of at least 170,000 people.
BBC Click's Marc Cieslak finds out more.