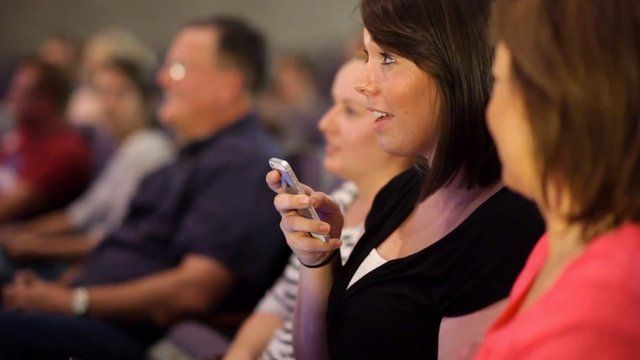 Video
Crowdmics app avoids need for pass-the-microphone
Ever been part of an audience and wanted to participate in a live event?
Your options were limited: either raise your hand and project as far as your voice allows; or patiently await a wireless microphone to relay its way through the crowd.
An enterprising start-up is looking to our smartphones to provide assistance.
Crowdmics is an app that lets users speak into their own microphone, with the sound broadcast over wi-fi to speakers in the room.
The company makes its money by charging event organisers a fee for the service.
It can also allow event attendees to take part in polls and submit comments to the presenter on stage.
The BBC's Richard Taylor was given a demo by company founder Tim Holladay.
You can follow Richard on Twitter @RichTaylorBBC
Go to next video: In-car app store gets a test-drive