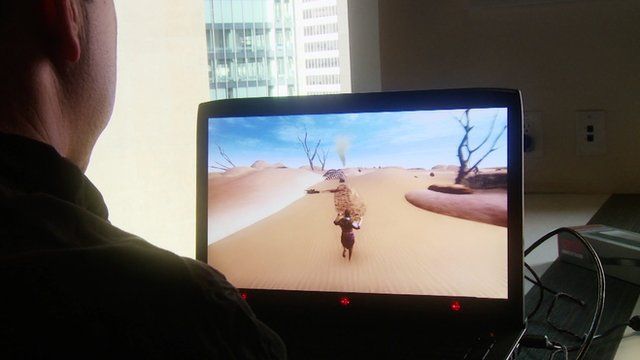 Video
Will 'eye-tracking' technology go mainstream in 2015?
Tobii - a company that specialises in kit that can tell where you are looking - believes 2015 is the year of "consumer eye-tracking".
It has incorporated its technology into an oblong device which sits below a computer monitor to allow gamers to see where other gamers are looking on-screen, to improve their own gameplay.
It is also being incorporated into video gameplay itself, with the developer of the popular franchise Assassin's Creed allowing players to control their view in the game by adjusting their gaze, and automatically pausing the action if it detects they have looked away.
But so far eye-tracking has only reached niche markets - for example helping researchers discern how consumers react to products or different website-designs.
It is also proving useful in helping people with limited physical dexterity navigate though web pages, with their eyes movements tracked instead of a mouse.
But will a technology which has been in development for almost two decades now go truly mainstream, to replace or complement other input devices for our computing?
The BBC's North America technology correspondent Richard Taylor got a demo of the new tech, and spoke to Tobii's President of Technology, Oscar Werner.
You can follow Richard on Twitter @RichTaylorBBC.
Go to next video: Commutes made easier with maths