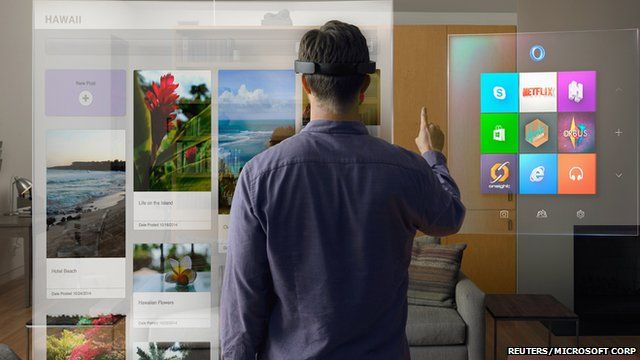 Video
Enhancing reality with Microsoft's holographic helmet
Microsoft has unveiled 'HoloLens' - a standalone wireless helmet which creates holographic illusions in the wearer's field of view.
Unlike the Oculus Rift and other virtual reality devices, the HoloLens creates augmented reality, allowing users to interact with virtual objects that live in their actual surroundings.
Microsoft launched the hardware at an event outlining more details of Windows 10, its forthcoming operating system. It hopes HoloLens will help entice developers to code for the new software, which is out later this year.
Industry experts who tried the headset were cautiously optimistic for HoloLens' use in certain scenarios. "It is clear that this new immersive form of augmented reality could make a powerful and compelling gaming platform as well as an efficient collaborative tool for commercial deployments," said Pier Harding-Rolls, a gaming analyst at IHS.
"However, we do not believe that a consumer offer for HoloLens is likely to be launched in the very near term and, considering the proprietary technology involved, we believe the price point when released will make this a niche consumer proposition in the early cycle."
HoloLens will compete with other start-ups promising augmented reality. Google has heavily invested in Magic Leap, a company that claims to be developing similar augmented reality technology, although it has not shown it off yet.
The BBC's North America technology correspondent Richard Taylor takes a closer look at HoloLens and the technology behind it.
You can follow Richard on Twitter @RichTaylorBBC.
Go to next video: Microsoft's hologram concept video