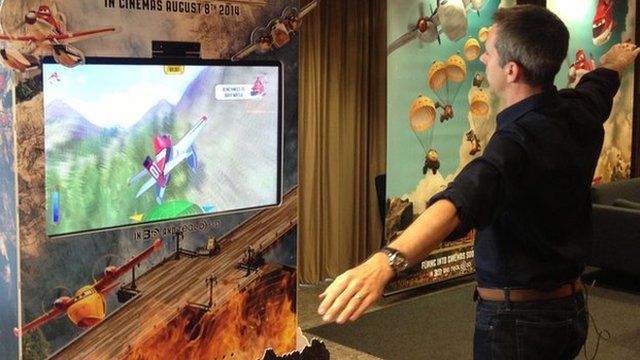 Video
Second generation Kinect to be used by Disney campaign
Walt Disney Studios Motion Pictures has revealed itself as one of the first firms to have experimented with the second version of Microsoft's Kinect motion/voice sensor for a use beyond Xbox gaming.
The movie company told the BBC it would shortly use the voice-motion sensor as part of a PC-powered interactive campaign for the forthcoming film Planes 2: Fire & Rescue.
It will allow two children to simultaneously control two animated aeroplanes by stretching out their arms, leaning back and forth, and bending their knees.
The firm previously used the original Kinect in a previous Iron Man promotion, but had to work round its limitations, including low resolution video capture and a more restricted field of view than the new kit.
BBC Click TV's Spencer Kelly tried out a test unit at Disney's London headquarters.
Watch more clips on the Click website. The programme will have more details about Disney's experiment this weekend.