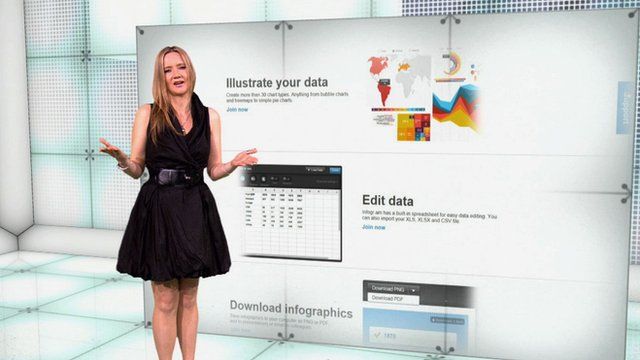 Video
Webscape: Splitting the bill sensibly
Kate Russell's weekly review of the best apps and websites.
Keeping track of your finances can get complicated, especially if you share any expenses with friends. Billpin is an app that records who owes what, keeping everyone informed via email.
Pintrips - one of a variety of apps aimed at the tourism sector - lets you compare different flights, dates or even destinations for holidays side-by-side on visual pin boards.
Infogr.am is a tool that lets you make your own infographics with little fuss. Just click and load to edit one of the pre-designed templates, adding charts, maps, text objects, images and video.
The internet map displays global Internet traffic as a stunning galaxy, containing 350,000 "planets" which represent the most clicked on websites, colour coded by country.
Talking of maps, quirky presentation tool Prezi has added a major new set of features to their popular service this week that allow users to collaborate in real time across the globe.
Finally, Google has re-launched Zagat, a web tool and smartphone app that helps users find the best restaurants, bars and clubs. The recommendations are selected and reviewed by industry experts.
Watch more clips on the Click website. If you are in the UK you can watch the whole programme on BBC iPlayer.
Go to next video: Webscape: Free student textbooks