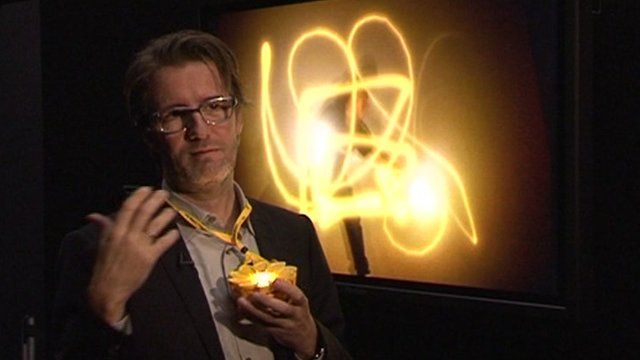 Video
Sunlight Graffiti: The artist who wants you to scribble with light at the Tate
Artist Olafur Eliasson has created a project called Little Sun which he believes traverses the worlds of fine art and international development.
He was inspired to action by the plight of those who are "off-grid" - the fifth of people around the globe who live without electricity.
With his friend engineer Frederick Ottesen, he created the highly efficient Little Sun solar-powered lamp - designed in consultation with the "off-grid" people they met. They were told by people in Ethiopia, for example, that it should be something you are "proud to show off to your neighbours".
The lamp will be sold at a small cost, and Eliasson believes it will be more marketable than Kerosene lamps, currently used in many communities.
Eliasson has set about spreading the word about the lamp using his artistic instincts, incorporating it into several conceptual explorations of the meaning of light. The Sunlight Graffiti installation at Tate Modern allows members of the public to use the lamp to make their own digital compositions.
Teaming up for the Cultural Olympiad, BBC Research and Development made the software which digitally captures each piece of graffiti, and incorporates it into an online spinning globe, which participants can access on the internet.
The interactive installation was inspired by another off-shoot of Little Sun, where director Tomas Gislason made a film of dancers making patterns with high-powered lamps and high performance cameras.
The Little Sun project is on show at the Tate Modern until 23 September, where the public can see young film makers inspired by the project.
Video Journalist: Dougal Shaw
Footage of dancers at beginning of film is from "Olafur Eliasson, Your light movement, 2012" - Directed, filmed, and edited by Tomas Gislason, Visual effects: Sune Daugaard, Dancers: Steen Koerner, Cathy "QMinh" Nguyen Van, Toniah, Robozee, used courtesy of Olafur Eliasson. With thanks to Andy Vine, and Alia Sheikh and Brandon Butterworth at BBC R and D.
Go to next video: 3D coding turns disaster to art