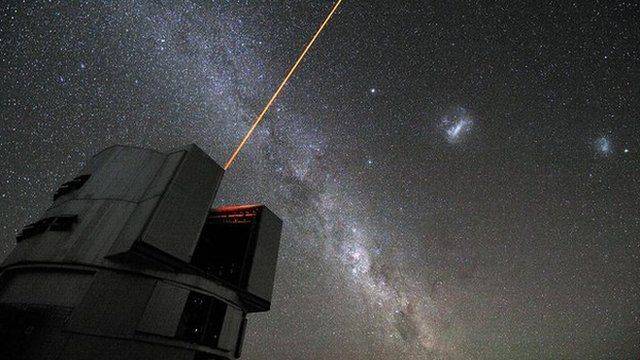 Video
Laser Guide Star upgraded to shine more light on stars
There is a certain "star" that does not twinkle.
It appears suddenly over the southern hemisphere, a new neighbour in the crowded black sky, but it is not a natural star.
Created by a powerful laser beam, it can be made to shine to order by the astronomers at the Paranal Observatory in Chile's Atacama Desert.
It is called a Laser Guide Star, or LGS - a device that helps scientists to get a better picture of real stars or other objects in the sky.
For now, there is only one LGS unit at the VLT. Soon, there will be four - and they will be a lot more powerful.
Frederic Gonte, head of instrumentation at Paranal, and astrophysicist Domenico Bonaccini Calia, head of the Laser Guide Star group at ESO, tell us about the current laser and the new unit.
Produced by BBC technology reporter Katia Moskvitch, who was on secondment to ESO for two months leading up to her trip to Chile.