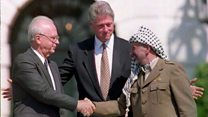 Video
Crossing Divides: How Israeli-Palestinian peace accord was prepared
In September 1993, on the lawn of the White House in Washington, an agreement was signed to bring about peace between Israel and the Palestinians.
In the months leading up to the historic handshake between Israeli Prime Minister Yitzhak Rabin and Palestinian leader Yasser Arafat, Norway had been instrumental in the negotiations.
Mona Juul, Norway's Ambassador to the UK, spoke to the BBC World Service's Witness programme about being part of the team that planned and orchestrated the secret meetings that culminated in the signing of the Oslo Accords.
Witness: The stories of our times told by the people who were there.
Go to next video: Princess Diana's iconic minefield walk