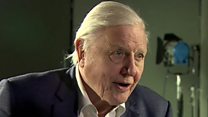 Video
David Attenborough: Climate 'biggest threat in thousands of years'
Sir David Attenborough is calling for urgent action to tackle climate change, which he describes as the "biggest threat to this planet in thousands of years".
The Blue Planet II and Dynasties presenter is to take the "people's seat" at UN climate talks in December in Poland, and will give a speech made up of comments submitted by members of the public around the world.
In an exclusive BBC interview, he spoke of personal moves to change his own lifestyle, but added that, "in the end, important actions can only be taken by big business, by industry, and by politicians".
Go to next video: Why the BBC rescued ill-fated penguins