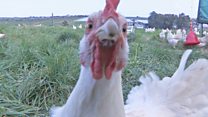 Video
What if the animals we eat run out of food?
As the global population grows and more of us are eating meat and fish, there are concerns that the world's resources can't keep up.
Currently, many farmed animals and fish are fed fishmeal, which is made of wild-caught fish. These could be threatened if demand for fishmeal intensifies.
Jason Drew is an entrepreneur and environmentalist. He has found a way to turn food waste into a maggot-based animal feed, which could offer a sustainable alternative.
His company has just won the Global Champion Award from The Food Chain on BBC World Service.
Go to next video: Are caterpillars the future of sustainable protein?