Media player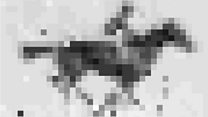 Media playback is unsupported on your device
Video
Movie encoded into the DNA of bacteria
An image and short movie have been encoded in DNA, using the units of inheritance as a medium for storing information.
Using the genome editing tool known as Crispr, US scientists inserted a GIF - five frames of a horse galloping - into the DNA of bacteria.
The frames are of the horse Annie G, captured in the late 19th Century by the British photography pioneer Eadward Muybridge.