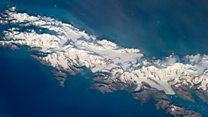 Video
Tracing South Georgia's glacial history
Twenty thousand years ago an ice cap covered South Georgia, extending far beyond the current coastline to the edge of the continental shelf.
Today, what remains of the island's once mighty glaciers is in fast retreat. And scientists say the changes experienced on South Georgia have lessons for the way we should expect Antarctica to respond as its climate warms in the century ahead.
Prof Dominic Hodgson from the British Antarctic Survey spoke with our science correspondent Jonathan Amos.
Go to next video: South Georgia's hidden glacial past