Media player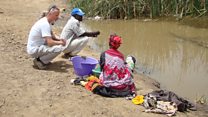 Media playback is unsupported on your device
Video
Prawns fight parasitic disease
Making sure certain rivers are fully stocked with prawns could prove to be an important contribution to fighting schistosomiasis.
The parasitic worm disease is endemic in many parts of the tropics and sub-tropics. Africa is a hotspot.
But it's been shown that prawns will avidly eat the water snails that host the parasite, breaking the cycle of infection that includes people.
The benefit of maintaining prawn populations was most eloquently demonstrated on the Senegal River, and now scientists want to spread the practice.
Giulio De Leo from Stanford University spoke to our correspondent Jonathan Amos.