Media player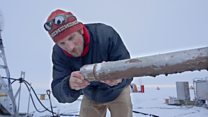 Media playback is unsupported on your device
Video
Antarctic glacier history resolved
The melting Antarctic glacier that now contributes more to sea-level rise than any other ice stream on the planet began its big decline in the 1940s.
This is when warm ocean water likely first got under Pine Island Glacier (PIG) to loosen the secure footing it had enjoyed up until that point.
Researchers figured out the timing by dating the sediments beneath the PIG.
Dr James Smith, from the British Antarctic Survey, explained the significance of the glacier to our correspondent Jonathan Amos.