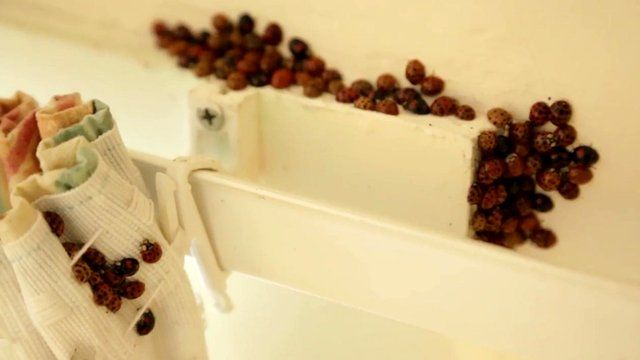 Video
Ladybirds 'rained thick as snowflakes'
With ladybirds taking shelter for the winter, one house in Cambridgeshire has become inundated over the weekend.
Following days of growing sightings of growing numbers of ladybirds, Margaret Yescombe posted videos to YouTube on Sunday of the situation at her home.
"The ladybirds rained thick as snowflakes for two hours," says Margaret. "They continued like something out of Hitchcock's 'The Birds'!
"They started streaming in the open window and crawling up the wall. I struggled to brush as many off the inside of the windows frames as I could. They'd already gathered in such numbers that they'd turned the white frame red."
Ladybird spotting: British v foreign bugs
Margaret sent the videos to the UK Ladybirds Survey and made sure to film those which had clustered around her curtains "to show what variety of species of ladybird there were".
"I used a pen to knock them all into an empty container and then put the container out of the front door so they could fly off and find somewhere else to hibernate!"
Video courtesy of Margaret Yescombe.
Go to next video: Ladybirds under threat