Media player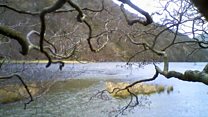 Media playback is unsupported on your device
Video
Timelapse of Storm Desmond's impact on Brotherswater
The rain that fell on northwest England on the night of 4/5 December 2015 pushed up the level of Brotherswater in Cumbria by more than a metre.
This timelapse movie captures the rising lake surface brought about by Storm Desmond.
Scientists led by Richard Chiverrell from Liverpool University had "traps" in the lake at the time to capture how sediment was washed into Brotherswater.
The research is helping the team understand the flood history of the area.