Media player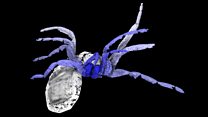 Media playback is unsupported on your device
Video
Reconstructing a fossil spider cousin
Scientists have used CT scans to reveal a 305 million-year-old fossil that was half-buried in rock.
They say the creature is the closest relative to "true spiders" ever discovered, but is not itself a spider.
The 1.5cm specimen was dug up decades ago in France but never previously studied in detail.
Researchers from the UK, Germany and the US made this detailed 3D reconstruction using laboratory and synchrotron X-ray CT scans.
Their findings are reported in the journal Proceedings of the Royal Society B.