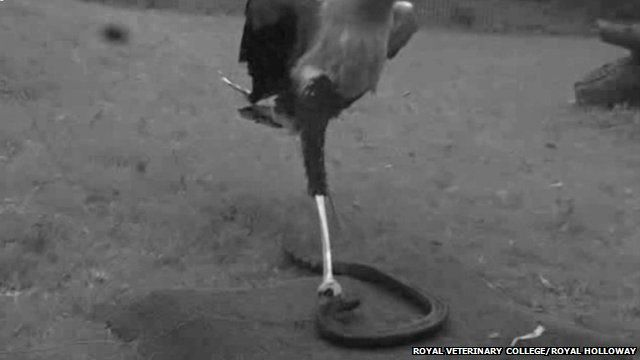 Video
'Ninja eagle' kicks like a mule
UK researchers have completed a mechanical study of the strike of the secretary bird - a large species that lives in sub-Saharan Africa and kicks its prey to death with remarkable agility.
A team from the Royal Veterinary College and Royal Holloway, University of London, studied a male secretary bird housed at the Hawk Conservancy Trust in Hampshire.
Using concealed force pads and a rubber snake, they found the bird's kick delivers a force up to six times its own weight, with a contact time of 15 milliseconds (0.015 seconds) - one-tenth of the blink of an eye.
Lead author of the study, physiologist Dr Steve Portugal, said he often describes the secretary birds as "ninja eagles on stilts".
Go to next video: Eels 'remotely control' their prey