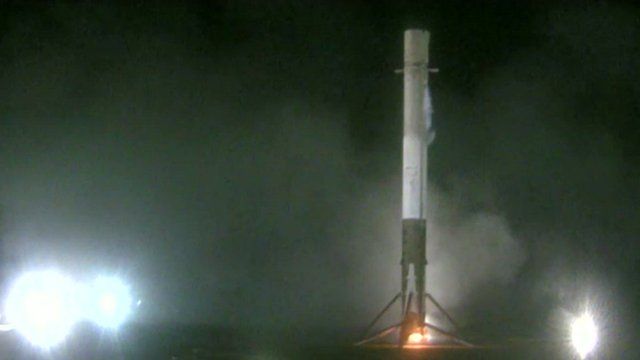 Video
SpaceX rocket lands safely back on earth
The private space technology company SpaceX has successfully landed a rocket back on land after a mission into orbit.
The Falcon-9 rocket, with 11 small satellites onboard, came back to earth in an upright position, a short distance from where it took off at Cape Canavarel in Florida.
It was the first time an unmanned rocket has returned to land vertically at Cape Canaveral and is seen as a huge success for SpaceX.
The company is trying to bring down launch costs down and to open up space to more people.
Billionaire company owner Elon Musk put a message on social media after touchdown saying "Welcome back, baby!" "It's a revolutionary moment,"
He later told journalists "No one has ever brought a booster, an orbital-class booster, back intact."
But although it was a test flight to see if they could bring the rocket back safely - the mission also had a practical purpose.
The rocket actually put 11 satellites into space.
But not all their launches have been so successful.
In June an unmanned SpaceX rocket exploded after blast off as it was heading to the International Space Station.
No one was onboard and no was was hurt.
The craft, an American Falcon-9 SpaceX rocket, was carrying supplies of food and equipment to the astronauts on the space station.
An investigation is underway to find out what went wrong.
Go to next video: SpaceX rocket explodes after blast off