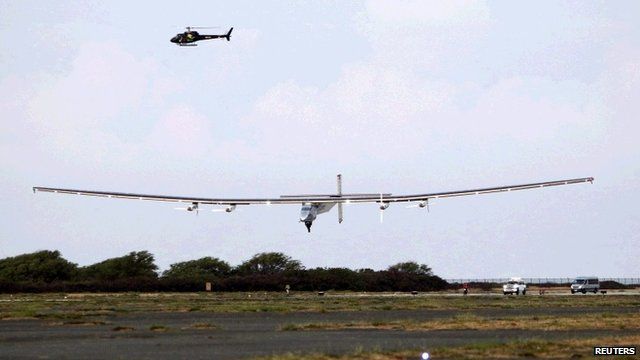 Video
Solar plane makes historic landing in Hawaii
Solar Impulse, the plane powered by the sun, has landed safely in Hawaii after completing an 8,000km journey from Japan, across the Pacific.
The distance covered and the 118 hours spent in the air are records for manned, solar-powered flight.
This leg of the journey had been delayed after pilot Andre Borschberg was forced to divert to Nagoya in Japan from Nanjing in China due to unsuitable weather conditions.
He then spent a month there before being given the green light on Monday to take off for Kalaeloa in Hawaii.
The next leg of the journey will be undertaken by pilot Bertrand Piccard, who will fly from Hawaii to Phoenix, Arizona.
Go to next video: Take-off for Solar Impulse 2