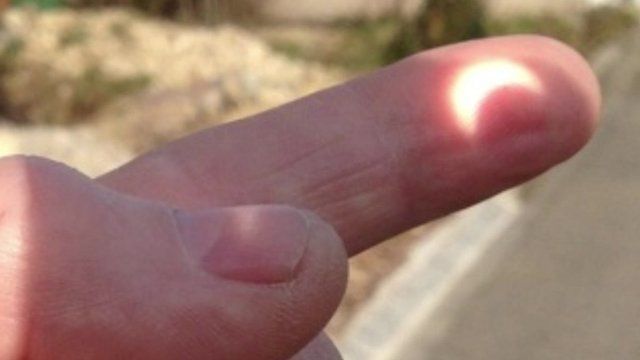 Video
Eclipse images captured on camera
Millions of people across the UK and Europe have turned out to witness the most dramatic solar eclipse so far this millennium.
In all parts of the UK, the eclipse reached at least 83%, with the darkness peaking at about 09:35 GMT. The precise timing and degree of the eclipse varied with location.
Many people captured the occasion using their mobile devices and cameras.
WARNING: NEVER LOOK DIRECTLY AT THE SUN WITH THE NAKED EYE, OR WITH CAMERAS, TELESCOPES, GLASSES OR DEVICES OF ANY KIND UNLESS SPECIFICALLY STATED THAT IT IS SAFE TO DO SO. LOOKING AT THE SUN WITHOUT PROPER PRECAUTIONS CAN CAUSE SERIOUS EYE DAMAGE.
Go to next video: Faroe Islands plunged into darkness