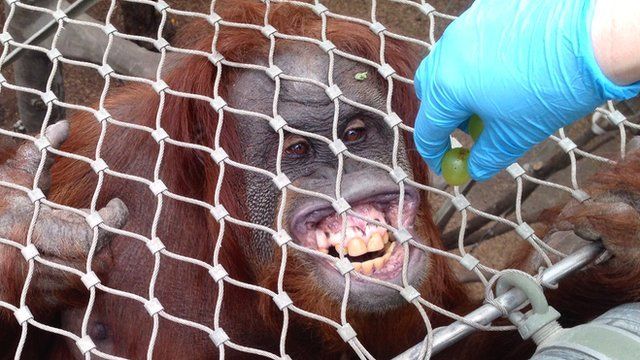 Video
Orangutan dental checks aid conservation
Primate experts at Chester Zoo are checking their orangutans' teeth in a bid to work out the animals' ages accurately.
This dental age estimating is helping conservation projects thousands of miles away in Malaysia and Indonesia, where the animals often need to be moved if they come into conflict with humans, or their habitat is threatened by deforestation.
To decide if they can move the animals safely, they need to know if they're old enough to live independently. Young orangutans are dependent on their mother for eight to nine years - longer than any other animal apart from humans.
Here, Chester Zoo vet Steve Unwin explains how to persuade an orangutan to "open wide" for a dental check.
Video journalists: Victoria Gill and Jamie Davies
Go to next video: Dung science causes rhino baby boom