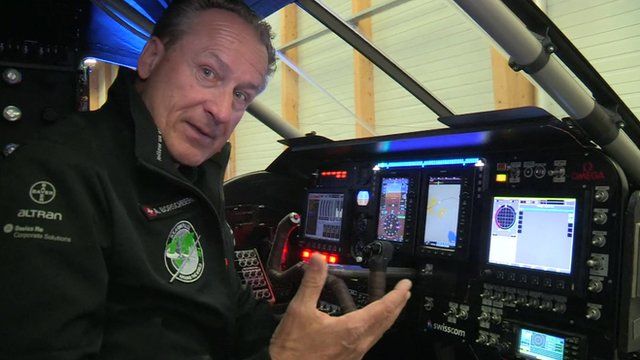 Video
Solar Impulse global flight plane unveiled
The team behind the Solar Impulse project - a mission to fly around the world in a plane powered only by the sun - has revealed the plane in which the pilots will make their attempt.
Its predecessor, Solar Impulse 1, has already been flown across America, and stored sufficient power in its batteries to fly all night.
With a wingspan of 72m (236ft), Solar Impulse 2 is the width of a Boeing 747, but weighs about the same as a large car.
Its wings are covered in 18,000 solar cells to convert sunlight into electricity to power its motor and to store in its batteries.
The Switzerland-based team will make the attempt next year.
Andre Borschberg, one of the pilots and co-founder of Solar Impulse, showed BBC News the brand new craft and explained how it has been designed to allow a pilot to spend up to five days alone in the cockpit.
Video journalists: Victoria Gill and Jonathan Hallam
Footage of Solar Impulse 1 flight courtesy of Solar Impulse.
Go to next video: 'Phenomenal sight' of plane take-off