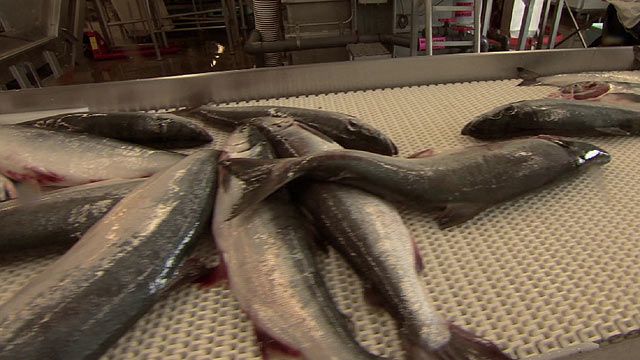 Video
Wild salmon is a billion dollar business in Alaska
Wild salmon is big business in Alaska. In the Bristol Bay area alone, 14,000 livelihoods depend on the industry producing salmon for the freezer and the can.
HARDtalk's Stephen Sackur visited a processing plant to see the fish being prepared.
This video is an extract from HARDalk is on the Road in Alaska. In the first of two programmes Stephen Sackur visits the Bristol Bay region of south-west Alaska where the fishing industry, the mining industry and the federal government are locked in a bitter argument over environmental sustainability and resource exploitation.
Every year 40 million salmon swim in to Bristol Bay before beginning their journey up the rivers and streams of the region. It is one of the world's great fisheries, however 120 miles (190km) inland there is plan to build the largest copper mine in North America.
HARDtalk explores whether the two forms of resource exploitation can co-exist?
You can watch HARDtalk on the Road in Alaska on BBC World News on Tuesday 30 July at 03:30, 08:30,14:30 and 20:30 GMT and on the BBC News Channel at 04:30 BST on Tuesday and then 00:30 BST on Wednesday 31 July.
Go to next video: Alaska's disappearing ice