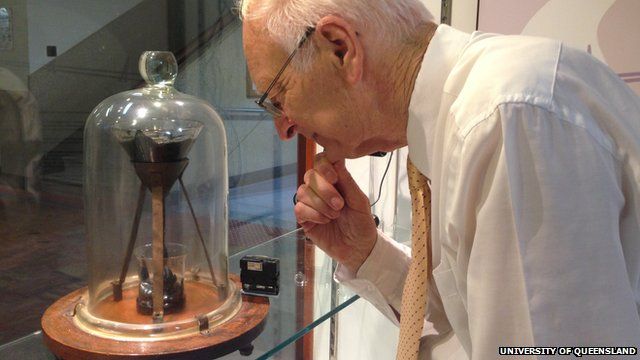 Video
Ninth pitch drop 'expected in 2013'
For more than 85 years, the University of Queensland in Australia has been running an experiment to work out the viscosity of pitch (a derivative of tar).
The study, which began in 1927 and is thought to be the world's oldest laboratory experiment, suspends a mass of pitch in the air and records how any drops which fall from it.
It has only seen eight drops of pitch to date, as pitch is one of the world's stickiest substances and has little fluidity.
But scientists are expecting a drip at some point this year.
Speaking to the Today programme, John Mainstone - the Professor of Physics at the University of Queensland - said: "All being well, I expect sometime this year, the ninth drop in this series will part company with the pitch above it, and in a tenth of a second, will fall into the beaker below.
"The thing that's of great importance to me is what happens in the two or three seconds before the drop."
First broadcast on the Today programme on Monday 29 April.