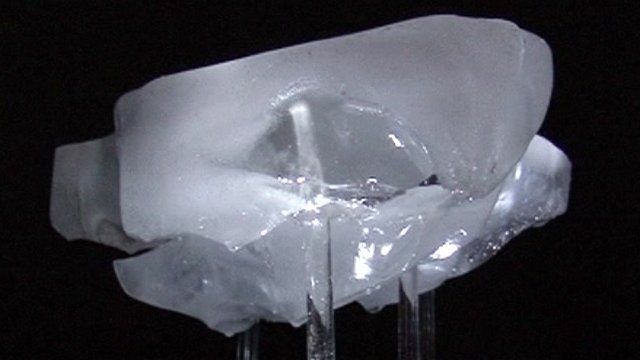 Video
Arctic ice: The exhibition that melts before your eyes
Accurate scale replicas of Arctic ice floes are the centrepiece of a new exhibition at the Architectural Association in London.
ScanLAB scientists measured real floes in the Fram Strait, northwest of Svalbard, Norway using millimetre-perfect 3D-scanning technology.
The completed digital survey model was then used to guide a Computer Numerical Control machine which carved the moulds, which are then filled with seawater and frozen.
Scientists have used the data recorded by the scanning to measure the speed at which floes are melting in the Arctic, while the scale models - which melt slowly before your eyes - provide a stunning visual display for visitors to the gallery.
William Trossell and Matthew Shaw of ScanLAB gave BBC news a tour of the exhibition.
Video Journalist: Dan Curtis