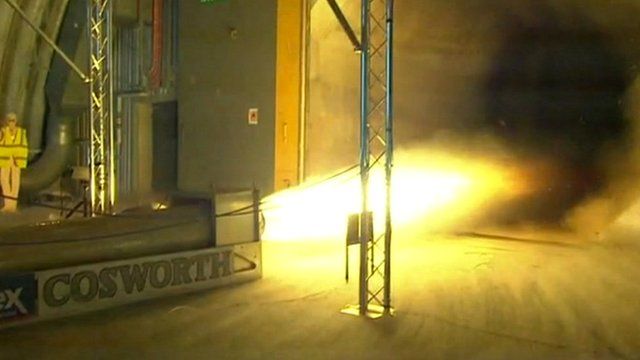 Video
Bloodhound supersonic car rocket test fired
The team building a car designed to drive faster than 1,000mph has tested the vehicle's rocket engine.
The motor for the Bloodhound Supersonic car burned for 10 seconds on a static rig inside a hardened shelter at Newquay airport, Cornwall.
The test of the car's hybrid rocket was a chance to integrate key elements of the vehicle's propulsion system.
Bloodhound will use the hybrid in addition to a Eurofighter-Typhoon jet engine to generate the thrust needed to go supersonic.
It will also carry a Cosworth Formula 1 engine and a pump that forces liquid oxidiser into the rocket's fuel chamber.
Wednesday's experimental firing was the first time engineers had seen the hybrid motor, Cosworth and pump - together with their control electronics - run in unison.
The car's driver, Wing Commander Andy Green, presented the test firing in front of a packed room of journalists and scientists.
Go to next video: Inside the Bloodhound SSC rocket