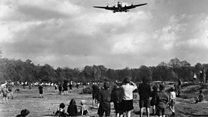 Video
Keeping Berlin fed during the Cold War
After the end of World War Two, West Berlin was surrounded by the Soviet occupation zone - and in 1948, the Soviet Union cut off the access routes to the city, in a bid to push the US, French and British out.
The only way to get food into West Berlin was by air. As the population began to go hungry, the Western powers started flying supplies into the city around the clock. They even dropped chocolate over the city - in tiny individual parachutes.
The Berlin Airlift was born - at its peak, there was a plane landing every 90 seconds. It was one of the first major confrontations of the Cold War.
Ulrich Kirschbaum was a young boy in Berlin at the time. He spoke to Witness about his memories of the airlift - and how it changed the relationship between Berliners and the Western powers, who had been enemies only a few years earlier.
Witness: The stories of our times told by the people who were there.
Go to next video: Black Hawk Down: The Somali battle that changed US policy in Africa