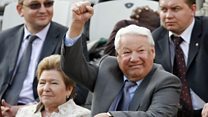 Video
The day Boris Yeltsin said goodbye to Russia
Boris Yeltsin came to international attention as the Russian leader who took control of the country after the collapse of the Soviet Union.
He ushered in a period of great change promising to turn the Soviet Union into a market economy and Russia into a democracy.
While he delivered a sort of democracy during his time in power, the period was marked by economic collapse as well as confrontation with the vestiges of the Communist Party.
It also led to the controversial transfer of huge state wealth to a small coterie of businessmen, Russia's powerful oligarchs.
Though popular at the outset Yeltsin was deeply unpopular at the end of his time in power.
Yelstin's widow, Naina Yeltsina, spoke to Witness about the pressure her husband bore and his love for Russia.
Witness: The stories of our times told by the people who were there.
Go to next video: My life in the world's largest refugee camp