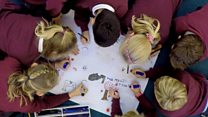 Video
100 Women: Jeanette Winterson helps children rewrite Cinderella
UK author Jeanette Winterson has helped school children re-imagine the fairy tale Cinderella for a new generation.
As part of the BBC's 100 Women season, she visited a primary school in the Cotswolds to discuss ways in which Cinderella is sexist and then asked the children to come up with their own version.
Video journalists Kelvin Brown and Jack Slater, produced by Sarah Buckley.
Our 100 Women season showcases three weeks of inspirational stories about 100 influential and inspirational women around the world . We create documentaries, features and interviews, giving more space for stories that put women at the centre.
We want YOU to get involved with your comments, views and ideas. You can find us on: Facebook, Instagram, Pinterest, Snapchat, and YouTube using the hashtag #100Women. You can also listen to the programmes.
Spread the word by sharing your favourite posts and your own stories using #100women