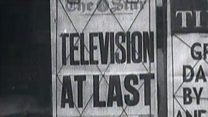 Video
A coin toss, a converted palace and 400 'lookers in' - how the BBC launched TV
Eighty years ago today, on 2 November 1936, the BBC began regular TV broadcasts.
Initially, two different broadcasting systems were tested on alternate weeks. John Logie Baird's 240-line mechanical system was deemed inferior and was dropped after just 3 months, leaving the 405-line Marconi-EMI format as the permanent system.
The opening day's festivities were restricted to just two hours which included a variety show featuring Adele Dixon. There was also the debut of the BBC Television Orchestra.
More details:
BBC Genome listings, 2 November 1926
Join the conversation - find us on Facebook, Instagram, Snapchat and Twitter
Go to next video: How to look like a 1930s TV presenter